Steak Cuisine: 31 Restaurants Found
Address: 600 N. Akard St., Dallas, TX 75201 (
Map
) - Tel:(214) 740-4001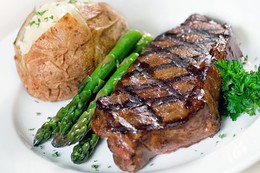 The slow descent in a glass elevator is the first indication that the experience at Dakota's is going to be unique. The subterranean restaurant sits 18 feet below street level, with a layout that includes a recessed patio surrounded by cascading waterfalls, a fire pit, and a granite bar. Inside, French doors let in natural light, while art-deco accents and bistro-style furniture create an elegant, dreamy setting. The menu showcases premium steak and seafood, with an extensive selection of dry-aged Midwestern corn-fed USDA Prime steaks as well as premium meats including Berkshire pork, Colorado Lamb, and Scottish Salmon.
Address: 2911 Routh St., Dallas, TX 75201 (
Map
) - Tel:(214) 871-9991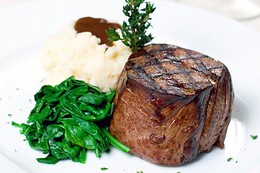 The Place at Perry's is an award winning, locally owned restaurant and uniquely Dallas treasure. Both the food and service have been nationally recognized in guides like Zagat's. The Place is Dallas's dining destination for the local business community as well as a comfortable neighborhood retreat, offering the perfect setting for intimate dinners or large parties, with a private dining room available for special events. Customers can enjoy a long leisurely lunch or dinner or grab a quick bite. The updated menu features Niman Ranch all natural beef and fresh seafood delivered daily, complimented by an extensive signature wine list featuring private reserves. Top-notch side dishes, salads, appetizers and desserts round out the fine dining experience. It's The Place to be for happy hour during each weekday from 2-7 p.m. with bar and lounge specials including highly rated wines at half prices and complimentary hors d' oeuvres.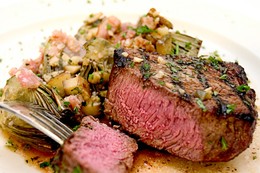 III Forks aims to recreate the grandiose eating experiences of old. Its 25,000 square feet of dining space, divided into fifteen distinct rooms named after famous Texan heroes, provides the stage for a Texas-French-inspired menu that offers USDA Prime beef steaks, a "Fish Market" selection, and sides including off-the-cob creamed corn, vegetables, and potatoes. The III Forks experience also relies heavily on an appreciation for great wine. Dennis Haley, the Cellar Master, is responsible for the 8,000+ bottles housed in one of the largest wine cellars in Texas. Indeed, III Forks offers a true eating experience.
Address: 5251 Spring Valley Rd., Dallas, TX 75240 (
Map
) - Tel:(972) 490-9000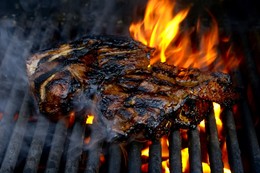 Del Frisco's Double Eagle Steakhouse is warm and comforting, with a dash of classical elegance. The two-story building even has a cigar lounge, to top off the night with a round of cigars chosen from the premium cigar selection. If familiar steakhouse menu choices, like Del Frisco's signature USDA Prime Beef, as well as seafood choices such as Australian Cold Water Lobster Tail arouse your senses, then Del Frisco's is a good place to find what you're looking for.
Address: 10477 Lombardy Ln., Dallas, TX 75220 (
Map
) - Tel:(214) 366-2000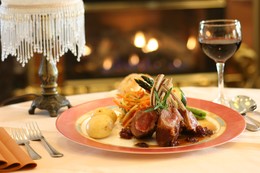 Pappas Bros Steakhouse offers the comfort of an old-fashioned dining experience and a graceful, stylish atmosphere. new generation of Pappas brothers strive to serve and cook according to the standard set by Jim, George, Tom, and Pete Pappas when they opened it over sixty years ago. A full menu of wine, cigars, and spirits, appetizers like Bacon-Wrapped Scallops and Shriimp Remoulade , and desserts fresh from their bakery should please those looking for an encounter with tradition. And of course, don't forget the steaks.
Address: 610 Main St., Fort Worth, TX 76102 (
Map
) - Tel:(817) 332-0100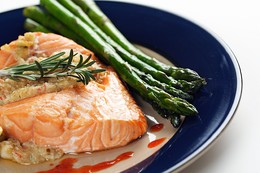 610 Grille lives up to the elegance of its location in the luxurious Ashton Hotel in Fort Worth, while allowing guests to experience fine dining in comfort. The welcoming dining room is bordered with earth toned walls, balancing the dark brown booth and table seating and pure white table clothes. Flowers on each table are an added touch to the overall homey feel. 610 Grille is so fond of comforting guests that in addition to their full menu, they also offer afternoon tea times Thursday through Saturday 2:00pm to 4:00pm. Varying flavors of tea, champagne and accompanying treats can make any afternoon a special occasion!
Address: 500 Crescent Ct., Dallas, TX 75201 (
Map
) - Tel:(214) 303-0500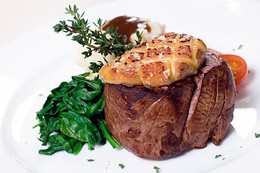 Settle into the easy elegance of the Capital Grille, and prepare for an evening indulging in the artistry of true dining. Blending finesse with a bit of surprise, the Grille serves dry aged steaks, fresh seafood, and wine from legendary vineyards across the globe. Tickle your palate with the Wagyu Beef Carpaccio, and move on to the Dry Aged Porterhouse Steak. The chef also suggests the Kona Crusted Dry Aged Sirloin with caramelized shallot butter. Lose yourself in hours of gastronomic revelry in this delicious time-warp.
Address: 702 Ross Ave., Dallas, TX 75202 (
Map
) - Tel:(214) 744-3287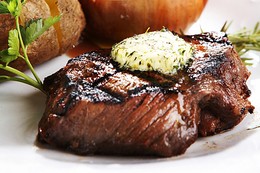 Y.O. Ranch Steakhouse is a fine dining restaurant with deep roots in ranching that date back more than 125 years. Every aspect of the Y.O. dining experience reflects a profound appreciation for the history behind the food – the meticulous preparation of the steaks involves the same techniques used by old ranch hands, and consists of the meat being seasoned, charred, then seared to hold in the juices. An intriguing wild game menu includes the signature Buffalo Filet Mignon, which was featured on the Food Network as "one of the best steaks in the nation." Embrace the charm of dining beneath antler chandeliers while being surrounded by antique photos of a family eager to serve you.
Address: 1501 Main St., Dallas, TX 75201 (
Map
) - Tel:(214) 744-3474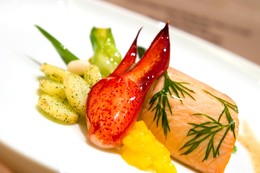 Modern design, innovative, fresh dishes and an award-winning wine list define this prodigious restaurant centrally located in the historic Kirby Building of downtown Dallas. Executive Chef Randy Morgan deals with small seafood companies in order to assure the freshness and originality of his seafood dishes. His goal is to share his passion for and knowledge of seafood with Dallas locals and visitors alike. Enjoy modern sushi, such as the "Canary Diamond" with kampachi, plum wine gelee, truffle oil, and yuzu, or choose from numerous surf or turf items, including Black Truffle Wrapped Chillean Sea Bass and American Wagyu Kobe Strip Loin.
Address: 4300 Lemmon Ave., Dallas, TX 75219 (
Map
) - Tel:(214) 528-9446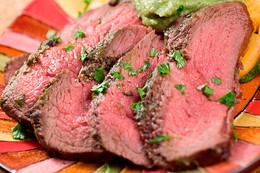 Tradition lives on in Bob's Steak and Chop House, which has satisfied patrons with fine prime steaks, chops, and seafood since 1994. The classic masculine décor achieves a sense of supper club authenticity with rick wood paneling and molding, and detailed leather upholstery. Ranked as one of the top steakhouses in the country, Bob's continues to impress visitors with its menu of tried favorites. Such savory delights include the 16oz T-Bone Steak, the full Rack of Lamb, and the Broiled Salmon. Bob's also boasts an impressive selection of wine and cocktails to rinse one's palate during the feast.